About Us
Today's chronic illnesses are triggered or aggravated by negative factors in nutrition and the environment as determined by medical science. Dr. John Hart of Functional Medicine for Families and Gynecology examines how these factors impact and undermine hormonal systems' optimal functioning. We are here to provide those suffering from chronic illnesses with a new option that can help them on their road to recovery.
Once the causes of these illnesses have been determined, we implement treatment with natural therapies that do not further stress the already ailing body. We treat the following ailments:
• Chronic Abdominal/Pelvic Pain
• Chronic Allergies
• Chronic Fatigue
• Chronic Yeast/Systemic Yeast Problems
• Chronic Headaches/Migraines
• Fibromyalgia
• Hormone Imbalances
• Lyme Disease
• Osteoporosis
• Thyroid Disorders

Offering Natural Therapies
Dr. Hart does not discount the significance of conventional medicine. He also acknowledges that we have the best trauma care in the United States and that modern medicines have been used in many situations to save lives. To complement new techniques, Dr. Hart offers natural methods of treatment.

With over 15 years of experience in natural hormone replacement therapy, Dr. Hart has gained extensive knowledge in addressing health-related environmental issues. Additionally, he has spent over 20 years as a board-certified OB-GYN. His history in multiple fields has given him the unique ability to act as a primary care physician and specialist.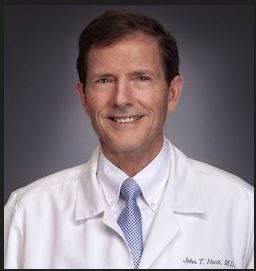 About John Hart, MD
Dr. Hart is the third of five kids in a career naval aviator family. He moved almost every year throughout his high school years. His last tour of duty was in Virginia, where he received his BS degree in aerospace engineering and the first MS degree in systems engineering from Virginia Tech.

Upon realizing he was better suited to applied sciences and problem-solving, Dr. Hart moved to the University of Virginia School of Medicine. There, he did his residency in OB-GYN and later became board certified.
Over the years, Dr. Hart has had post-graduate training through several organizations, including:
• Academy of Comprehensive Integrative Medicine
• American Academy of Anti-Aging Medicine
• American Academy of Environmental Medicine
• American College for Advancement in Medicine
• American College of Integrative Medicine
• Institute of Functional Medicine
• International Lyme and Associated Diseases Society
Professional Experience
While working and living in the Middle East, Dr. Hart became ill and returned home to improve his health. This led him to learn more about chronic illnesses and pursue training in functional medicine. In 2002, he started his Functional Medicine for Families and Gynecology practice with offices in Ashburn and Fredericksburg, VA.
As an experienced doctor, Dr. Hart ensures that your treatment plan is the most effective method of managing your illness. He also matches your plan with your lifestyle and schedule. From evaluation to prescribing medications, our primary goal at Functional Medicine for Families and Gynecology is to find the perfect remedy for you.
Personal Life
Dr. Hart is married with four children and two grandchildren. He also has a cat named Tiger. He has a pilot's license but is not actively flying now. As a worship team member at his church, he plays the guitar and bass guitar.